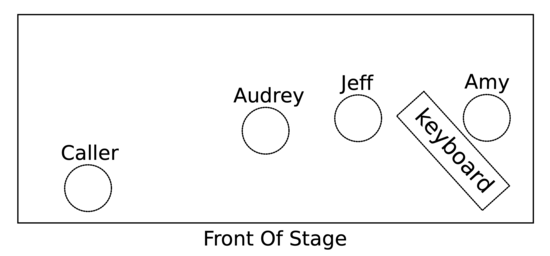 Inputs
Audrey Knuth
Fiddle: 1 xlr with phantom power
Jeff Kaufman
Mandolin: 1 mic with boom stand
Electronic Feet: 1 xlr, one power outlet
Computer: 1 xlr, one power outlet
Amy Englesberg
Keyboard: 1 xlr, 3 power outlets
Accordion: 2 xlr (right and left hands).
General
Chairs: three, no arms please.
Monitor Mixes: three. If you can only do two, please let us know in advance so we can bring a personal monitor to supplement.
Keyboard:
We run the keyboard sound via a MIDI module. This means we use it only as a MIDI controller, running MIDI to the sound module, which converts that to audio. This allows us to use a wide range of sounds that are consistent from place to place when we travel. We can adjust levels to get something that works for your hall: just let us know!

If you're supplying the keyboard, a Roland RD or FP series is best. If that's not available, we need something full-size (88-key) with weighted keys.

The keyboard needs to have MIDI output (5-pin or USB) so we can connect it to the MIDI module.